Paint Protection Film
Welcome to the Carlori Car Protection website. Our company products are Paint Protection Film, Ceramic Coating and Car Wrapping Film. Paint Protection film helps to protect your factory paint finish from things like surface scratches, UV exposure, hard water deposits, acid rain, oxidation, and others. If you want to know more details, please contact us, thank you very much.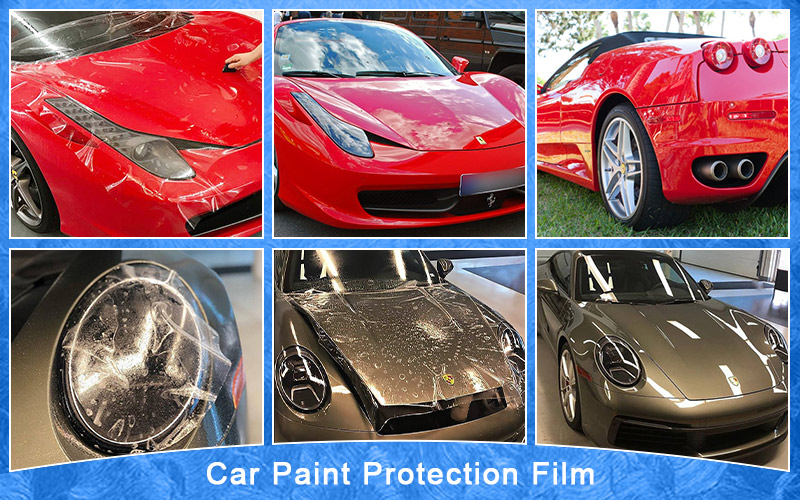 What Is Paint Protection Film / Clear Bra?
Paint Protection Film(PPF) is a durable and flexible transparent sheet made from Thermoplastic Polyurethane that protects your vehicle's paint against road debris, rock chips, and scratches. Previously known as clear bra, Paint Protection Film comes with a clear or satin finish acrylic, pressure-sensitive adhesive (PSA) that secures itself carefully to the vehicle's clearcoat and protects your vehicle's paint.

This popular thermoplastic film consists of several microlayers that, when exposed to heat, through sun or a heat gun, reforms itself and protects your car from damages like scratches or scuffs and has the ability to "self heal".

Our paint transparent film is almost invisible, and durable, while providing UV protection for your car, and act as a barrier to rock debris, and prevent chemical and water damage.

Not only can a high-quality Paint Protection Film extend the life of your vehicle's original paint , you can preserve your beautiful matte finish or give your car a new satin look without damaging the original paint.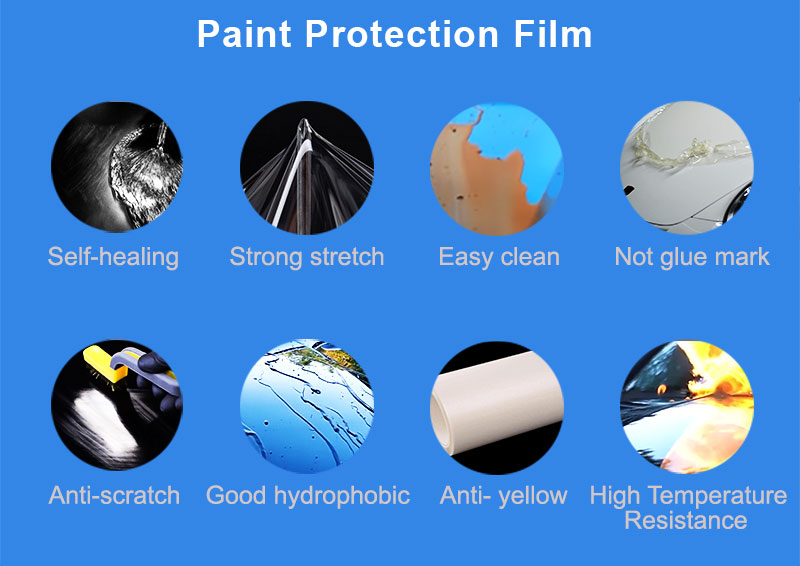 Product Features :
1. Puncture Resistance and High Tensile Strength.
2. Self-healing, Anti-scratch and Durable.
The surface of the product is coated with a layer of elastic memory repair coating , with self-repair function , for the scratch caused by the driver can be quickly self-repair , without follow-up maintenance.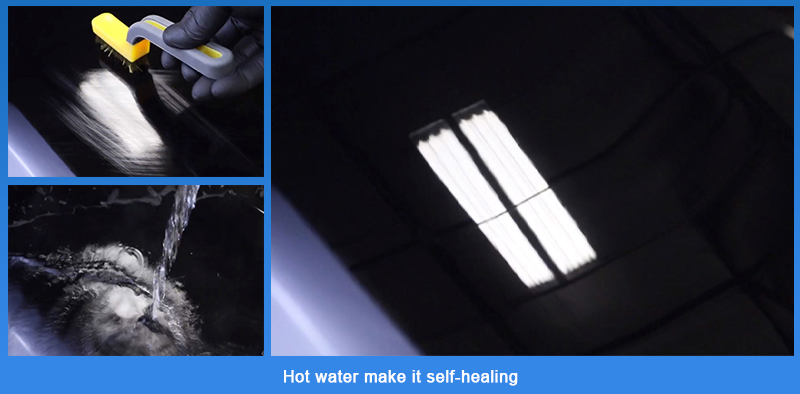 3. Anti-corrosion , Long Protection Against Fading Of Car Paint.
Excellent anti-permeability and corrosion resistance, good protection against acid rain, asphalt, insect resin, leaf spots, bird droppings and other stains penetration and corrosion. So that the car surface does not produce spots and matting and other undesirable phenomena.
4. Enhance The Surface Brightness Of Car Paint, Make The Car's Surface Shiny For A Long Time.
The product has super anti-ultraviolet function and 10 years of stable performance, can protect the car paint from oxidation and fading for a long time. Increases the brightness of the paint by 40% and stays bright for a long time. Avoid the cost of waxing and sealing glaze.

5. Anti-fouling, Good Hydrophobic and Easy to Clean.
With super anti-pollution ability, it can make the car paint surface protective film shrink the water into water droplets, so that the liquid is not easy to remain, to prevent the formation of scale after the pollution of car paint. The normal car needs to be cleaned every two weeks, and the hydrophobic car can reduce the number of times, difficulty and cycle of car and clothing care, can maintain the lasting appearance of the paint surface, improve the service life.

6. Removable.
Carlori Paint Protection Film leaves no trace of its adhesive on your car.

Application & Cases :
1. The Automotive Paint Protection Film is widely used for cars, motorcycles, trucks, vans and other types of vehicles.
2. The Instant Self Healing Paint Protection Film is typically designed and installed to protect your Vehicle's Hood, Fender Panels, Headlights, Taillights, Front & Rear Bumpers, A Pillars, Mirrors, Rocker Panels, Door Edges, Door Handle Cavity (Door Cups) and any other vulnerable paint areas.