Product Overviews:

Complicated Fuse Box Auto Relay Wire Harness


This custom automotive relay wire harness covered with split corrugated tube for protection. Also with much relay connectors and socket. Related auto wires can be chosed as customer requirement, like AVSS, AVS, FLRY, TXL, GXL, etc. Also connector can be original AVL one or local equivalent one.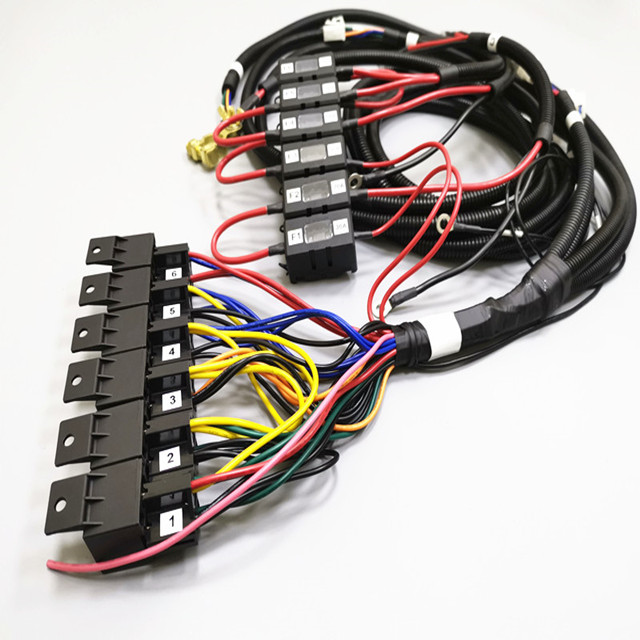 01 An automotive Relay wiring harness is capable of fixing a variety of power related HID lighting issues i.e. intermittent on/off, flickering, delayed start, HID low light output, and uneven brightness. An HID wiring harness for some vehicles is a safety and assurance item to prevent future problems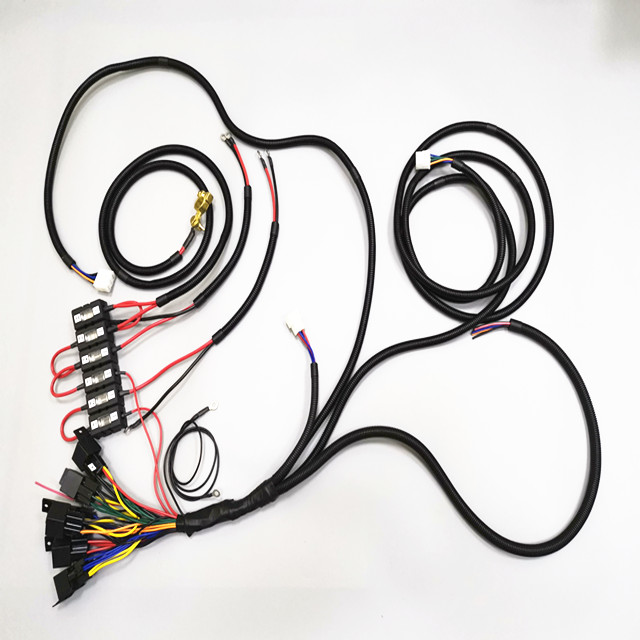 02 Relays are a mechanical device that can connect or disconnect power to an accessory when it gets a low voltage 'signal' from a switch. Some people may ask why they should bother using a relay when you can just wire an accessory directly through a switch to its power source. There are two main reasons why relays are utilized in the automative wiring harness.
First, Using a relay keeps the higher voltage out of the passenger compartment of the vehicle and is just less taxing on your vehicle's electrical system in general. If something were to fail and short, the chances of an interior fire are significantly reduced if a relay is utilized to allow the higher voltage switching occur in the engine compartment. This also reduces the load on the interior fuse panel by placing a smaller demand on it.
Second, It allows the use of less heavy gauge wire. The longer the wire, the higher the resistance. By using a relay near the item being switched, you use less of the heavier gauge wire.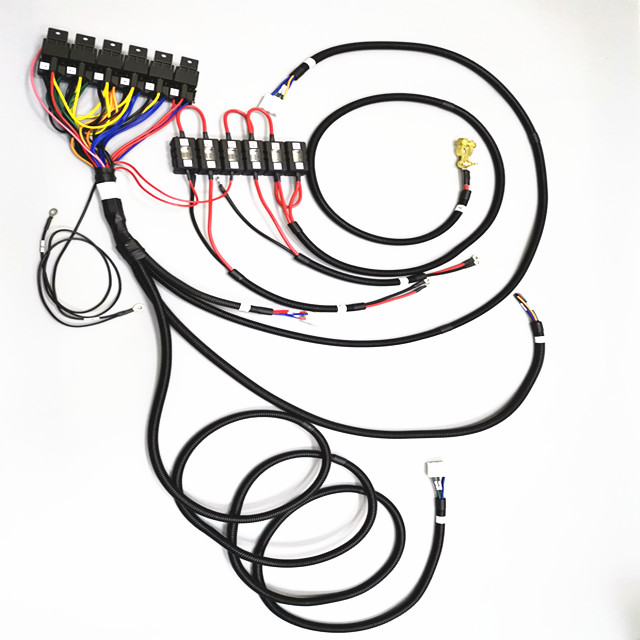 03 Consider a typical user upgrade – adding fog lamps to the front of a vehicle. Many would tap into power at the fuse block, run it to a dash mounted switch, then back through the firewall all the way forward to the lights. Wiring with a relay allows the power to run straight from the battery, through the relay mounted nearby, directly to the lights. The interior mounted switch only draws minimal power though the interior fuse block to activate the relay.
See below for an example of a relay wiring diagram. The color coding on the relay matches our relay harness pigtail.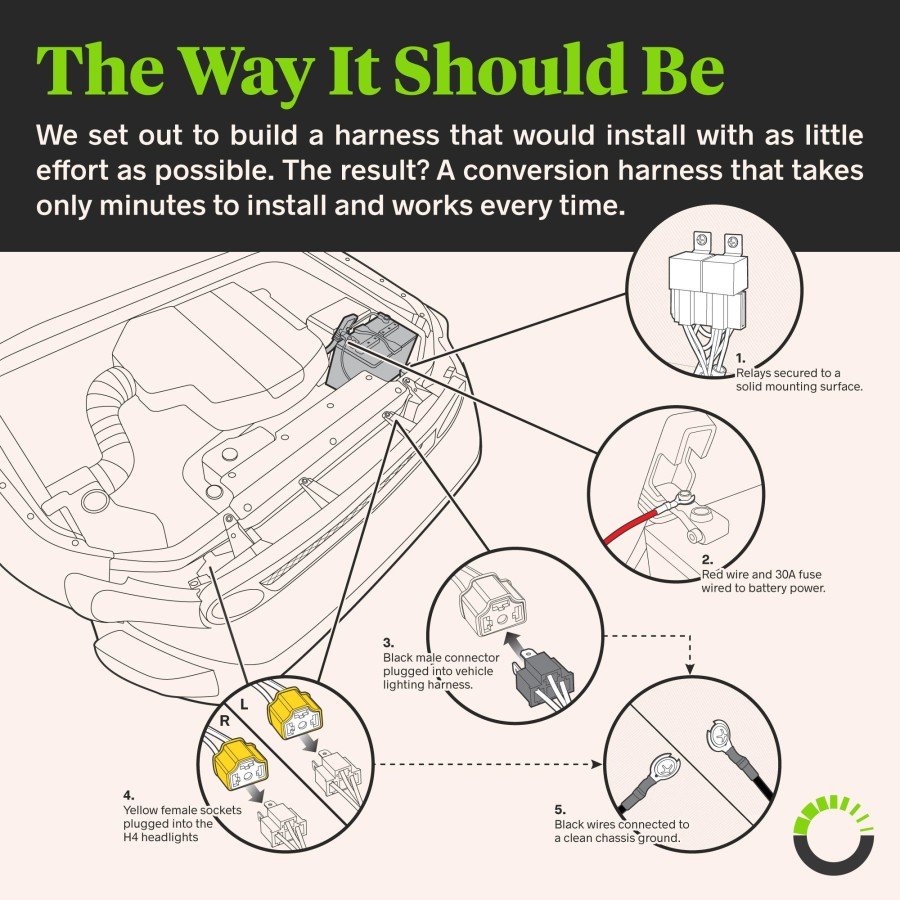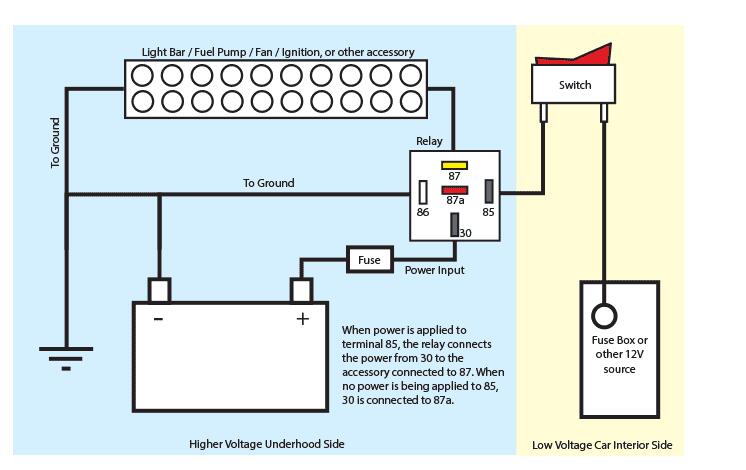 04 Relay Wiring harness and relays are a must-have when installing electric fans. Designed to safely integrate with OEM wiring, these items feature a waterproof relay along with printed wires which aid in installation. The wiring kits also feature stainless steel switches with optional switched override capability, fuse holder, and wiring connectors.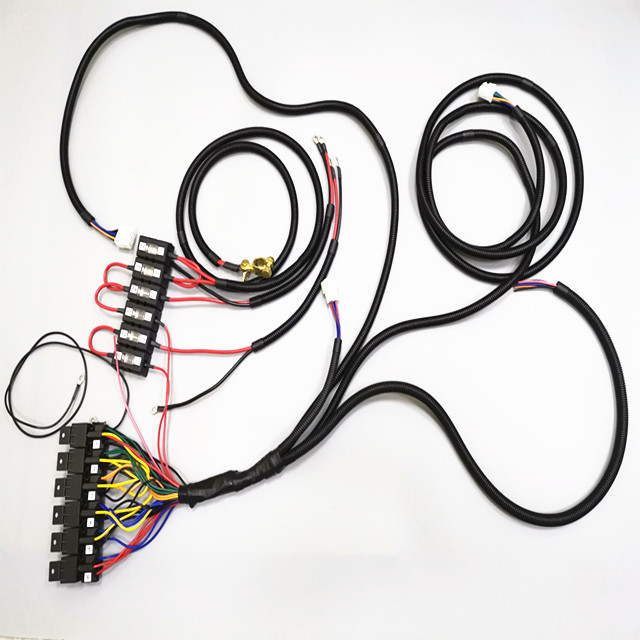 Application:

We specialize in custom relay wire harness for the widest diversity of cable and connector types, across the whole spectrum of industries. We built your unique Molded Cable Assemblies according to your specified shapes, sizes, pin configuration and cable materials to suit Ethernet, Automation, Marine, Transportation Applications,fuel pump, Headlight etc.